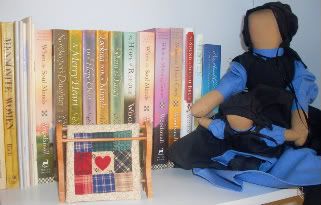 When shopping in Pinecraft at Miller's Dutch Haus Furniture recently, I came across this irresistible quilt rack. The miniature quilt is hand-stitched. The tag reads
Handmade by The Miller Family in Holmes County, Ohio.
I like it so much, I'll probably go back and purchase another for myself, but this one was bought to give away. The doll was gift from my daughter, and the books on the shelf – some of my favorites! For your chance to win the quilt rack, just leave a comment on www.sherrygorebooks.com to be entered to win. I'll announce the winner on Friday.