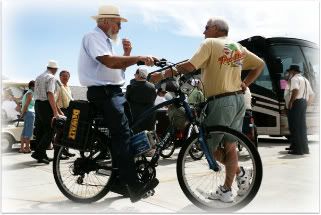 Most every day Amish Henry can be seen riding his bike through Pinecraft in the winter season. Often he has his worn-out green utility wagon following right behind carrying tools for his handyman business. If you're lucky, you might catch a glimpse of Henry riding with an enormous cast iron kettle in the wagon. If you do, follow him. Where to? The Pinecraft Park, of course!
With a covered pavillion set in the heart of the village, the Pinecraft Park has long been the perfect venue for many fund raisers held each winter. These fund raising suppers aim to help out folks in need, or generate funds for ministries such as Gator Wilderness Camp for Boys, and Gospel Express.
Even though Pinecraft is a virtual ghost town this time of year, we're having
Cowboy Stew
tonight. Henry and Sarah are bringing supper to our place. Mrs. Henry is at home busy baking dessert; a
Black Raspberry
Pie
made with hand-picked plump, juicy berries from their farm in Indiana. Henry has the stew bubbling.
You can read about Amish Henry in my book,
Taste of Pinecraft...Glimpses of Sarasota Florida's Amish Culture and Kitchens
, but you won't find the recipe for
Cowboy Stew
- it's a secret - something you can only experience in Pinecraft!
www.sherrygorebooks.com